Pumpkin Spice FSO SUCCESS.
Autumn Colors, Pumpkin Spice Everything, and DSS Changes
Did you know that the loca on for STEPP is changing? It is.
Did you know that they changed the fax number to send SF312s? They did.
Did you know that they have been stopping PRs for certain subjects and are adding them to the Continuous Evaluation status instead? They did.
Add this to the pending changes for NISS, DISS, eAP… it's more changes than Doctor Who companions!
September 2018
What should FSO's be doing
this month?
Register with NCAISS/ DSS Portal.

Watch the four-minute video on registering for NISS.

Audit your personnel training records.

Administer any scheduled annual training: Annual Refresher, Insider Threat, Self-Inspections.

Plan your Month once a month!

Plan your day the night before!

Set aside 10 minutes of FSO Study a day.

Find Carol and make her get her training done!

Drink a pumpkin spice latte from your FSO PRO coffee mug!
With a little planning once a month or week, and a few dedicated minutes each day, you can manage this while dealing with all the usual headaches you have in your job ("What do you mean you don't see the VAR in JPAS – I am looking at it!")
Your 5 Step Action Plan for Making this a Great Fall Security Season!
Refocus your Focus – What is it that you actually want to achieve? Inspection Prep readiness at any moment? To be an FSO subject matter expert? To help other FSOs? To have more suspicious contacts than last year? Get clear on your organization's security goals and mission so you know where you are heading!
Plan to Succeed – True Story: FSO PRO has been so busy lately (thanks DSS!) that in June, I went to an SVA a month early! Proper Planning is essen al with any goal and there are times when your usual planning methods need to be upgraded!
With our FSO Pro Membership, we offer monthly planners, to-do templates, enhancement planners and checklists so you can take a few moments each month and map out your success. Want a sample? To join the "FSO SuperHero" club go to: https://thefsopro.comshop/.
We also recommend planning tools and apps such as Trello, Google tools, Outlook calendars and project schedulers.
For me, what works best is planning out the month at the beginning but looking at the next month too, in case I need to task out items the last week. I put both the due dates and the dates that I need to work on it.
I start an hour or two ahead of the day (this doesn't work for everyone) and knock out the "worst first" then close out my day with an updated priority list for the next morning. That's just me.
Get Educated! It would be nice if someone could just tell us exactly what to do! It is not a one-size-fits-all situation, so you will, as an FSO – have to take a few moments each day to educate yourself.
DSS is offering workshops, "Industry" events, and Summits to get a ton of information and resources in one day.
CDSE offers all sorts of web training, study guides, and job aids.
NCMS offers brown bags and annual conferences.
FSO PRO offers newsletters, video training (coming soon), one on one training, SVA and Self Inspection Prep, and process booklets.
The problem is not the material – it is out there. it a real priority. The problem is making
Where the Board of Education meets the seat of learning.
Clean House:

"If You Have a Moment, I would like to Talk with You About Our Government -Required Training."
That is how I feel each year when I send out the Annual Refresher Briefings – like some sort of unwanted sales rep! Folks are busy, they have done this before, they just did a training with someone else, blah, blah, blah. I can promise you this: when you are sitting with an auditor (DSS, ISO if you have that, Contracting…) and they say "show me Carol's Annual Refresher from last year" and you cannot locate it – it is a VERY uncomfortable feeling.
(One job, Carol!)
Here are some tips for how you can ensure your training is complete for your cleared personnel:
Make a chart with all your cleared personnel and all their required training. You can request a free copy of one we often use by asking this guy.
Review the training in NISPOM 3
• Initial Overview
• Annual Refresher
• Annual Insider Threat
• Debriefing
Now locate Special Briefings, if any, on your DD254 and in the contract Statement of Work (SOW).
• NATO
• COMSEC
• SCI
• OPSEC
• CyberChallenge, etc.
Combine the NISPOM 3 requirements as much as you can. We blend the initial, annual training, Insider Threat into one with a very extensive acknowledgement sheet to ensure we cover all required topics.
Audit your personnel records to make sure you are not missing anything! (Carol?!)
Send "courtesy reminders", send notes to their supervisors – keep at them un l you get 100% of all the required training. (I

will

come to your house, Carol!)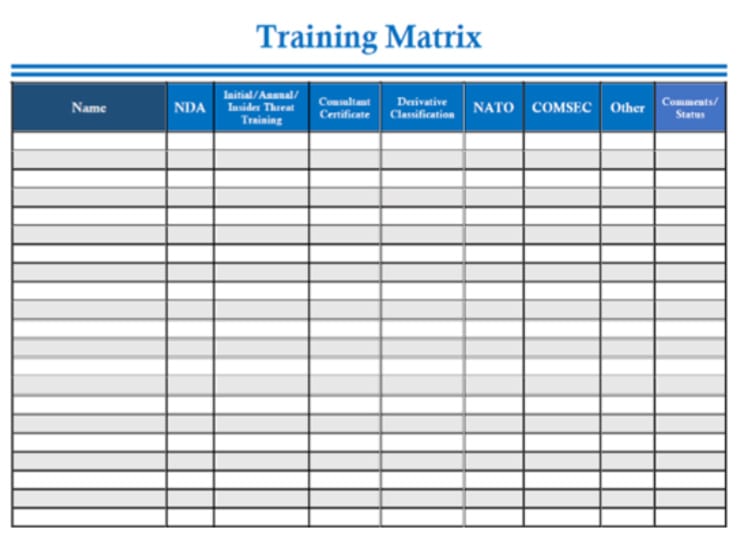 Make October a Security "Event" Month!
Over the next few weeks, people will begin to feel festive. Take advantage of that (and National Cyber Security Awareness Month) to get some NISP Enhancements going!
Ideas to make training fun and creative.

Competition – get your groups (Programs, departments, etc.) to see who can get it done rst. I will tell you right now – HR and Finance take that seriously!
Have an "event" training. Do it all at once with a company pot-luck or barbecue.
Give it a theme and promote it for weeks with posters, candy, and reminders.
Have prizes! Yes, you should not have to bribe anyone to do their job but if it cuts down on your reminders, it may be worth a Starbucks card or two.
Go to CDSE for ways to update your training or use the posters, handouts, and video shorts to add to your education program.
Terms This Month:
SMO = Security Management O ce. Everyone a liated with your JPAS records.
JPAS = Joint Personnel Adjudica ve System. FSOs system of record for personnel clearances.
NISP Enhancements – 10 Categories developed by DSS of above-the-baseline standards of events, educa on and best security prac ces that can lead to a posi ve security impact for your organiza on.
DMDC = Defense Manpower Data Center: who you call for issues with JPAS: 800-467-5526.
PSMO = Personnel Security Management O ce: who you talk to about personnel security concerns: 888-282-7682.
CDSE = Center for Development of Security Excellence: www.cdse.edu – where you learn!
FSO PRO thanks all the FSOs out there for everything you do to keep the warfighter safe. Even the smallest task is designed to keep our nation's information out of the hands of those who would do harm. We, as FSOs, are doing our part to stay vigilant and determined to protect those who protect us, even in our own small way.
That is why we say how awesome you are. And thank you.
Admin